http://www.actransit.org/environment/the-hyroad/
The HyRoad
The Program
Fuel cell buses are clean, quiet, electrically propelled vehicles that emit only water vapor from the tailpipe.
Since 2000, AC Transit has been developing what has become the most comprehensive hydrogen fuel cell demonstration program in the world, featuring:
Three zero-emission hybrid-electric, hydrogen fuel cell buses
A fleet of fuel cell passenger vehicles
On-site hydrogen production and fueling
On-site fleet maintenance
Ongoing, outside evaluation
Public education and safety training
The HyRoad aims to demonstrate the viability of an emission-free transit system.
The Bus
Designed in partnership with Van Hool, UTC Power, and ISE Corporation, AC Transit's fuel cell bus represents the most advanced, fuel-efficient, zero-emission, hybrid-electric, hydrogen fuel cell bus in the world.
This partnership modified the 40-foot Van Hool A330 bus chassis to accommodate UTC's PureMotionTM 120 kW fuel cell power system and ISE's hybrid-electric drive system. Hydrogen tanks on the roof give the bus a range of 300-350 miles, and batteries recharged during braking can provide an extra 95kW of power for acceleration and climbing steep grades.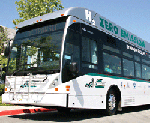 Ride a Fuel Cell Bus
Ride a Fuel Cell Bus Be one of the first 0.001 percent of people in the world to take a ride on a zero-emission fuel cell bus.
Learn More
Video of the bus in motion
The Funding
AC Transit has secured more than $21 million from public agencies and private sector companies (Bay Area Air Quality Management District, California Air Resources Board, California Energy Commission, California Transportation Commission, CalStart, Chevron Corporation, Department of Energy, and the Federal Transit Administration). This money has been tagged specifically for fuel cell development and may not be used for any other purpose.
Our Partners
AC Transit is proud to have been selected as the lead transit agency in the nation for this project. We could not have done it without the support of visionaries within our local communities, our local, regional, state and federal government agencies, and the manufacturers who are building the components of the HyRoad Program:
Van Hool Bus, manufacturer of the bus bodies and chassis
UTC Power of Connecticut, maker of the fuel cells
ISE Corporation of San Diego, integrator of fuel cells and hybrid-electric drive systems
Hyundai-Kia Motors, provider of light-duty fuel cell vehicles
Chevron Corporation, builder of Oakland hydrogen energy station
California Fuel Cell Partnership and Hydrogenics, sponsors of the Richmond hydrogen energy station
Evaluation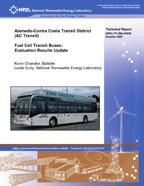 The potential importance of the HyRoad program goes far beyond the health of our local environment. The purpose of this demonstration project is to prove the viability of a zero-emission public transit system to the rest of the world. AC Transit's program is being monitored and evaluated by the Department of Energy's National Renewable Energy Laboratory (NREL). Vehicle performance as well as institutional and public acceptance is being studied.
In July 2008, NREL published a third report on its evaluation of fuel cell buses in service at AC Transit in Oakland, California. This report provides an update to the previous reports (Feb 2007 & Oct 2007) and includes results and experience through December 2007. The evaluation covers three prototype fuel cell buses in comparison to six diesel baseline buses operating from the same bus depot. During the data collection period (Apr 2006 – Dec 2007), AC Transit operated the fuel cell buses more than 62,000 miles with an overall fuel economy of 6.23 miles per kg, which equates to 7.04 miles per diesel equivalent gallon. For comparison, AC Transit's diesel buses had a fuel economy of 4.2 mpg during the same timeframe.
To download the document directly
go here
.
See also NREL's Fact Sheet about AC Transit's prototype
fuel cell buses
.
Education and Outreach
AC Transit has developed a comprehensive education and community outreach program in partnership with:
Lawrence Hall of Science, UC Berkeley
Schatz Energy Research Center, Humboldt State University
The National Hydrogen Association.
Together, we are developing an educational curriculum for middle and high schools around the country. With our outreach programs, our first responder trainings, and our web site, we keep the public informed about the challenges and successes of our program, and what our findings mean to the future of our energy and transit systems.
Furthermore, the interiors of our fuel cell buses have been designed to be Mobile Learning Centers, bringing educational messages about hydrogen and fuel cell technology directly to the hundreds of thousands of people who ride AC Transit every day.